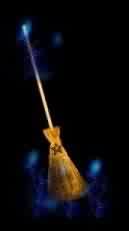 Wicca is an earth based religion, although fairly new, its roots are pagan. All wiccans are pagan, but not all pagans are wiccan. Its like saying catholics are christian, but not all christians are catholic. Wiccans uses alot of symbolism in their rituals, and theyre celebration, as you start celebrating the sabbats, you will see this more clearly.




Since we know this is earth-based, we know and honor a male and female god aka "diety". This is called the god and godess, but not to be confused with christian god "jesus". IN nature everything is male and female, not entirely male, or we would not be here. the goddess symbol is the gentle moon, and the god is the mighty sun. There are many names for the dieties, these are simply their "personality" names, like we are mothers, daughters, sons, uncles ect.




We do not believe wicca is the only "valid religion". There are all different paths people take to get to the same place. we believe in reincarnation, its vital to our souls journey, we must learn our lifes lessons to become better and more like our creaters. There is no ultimate evil diety, but there are consequences to our behavior, its called karma, what you do in this life good or bad, will be lessoned in your next life, so dont worry that your going to hell, were not perfect and the god/ess knows this. but do remember the creed that states "do what you want as long as it harms none"
I want to clear up misconceptions about wiccans. we do NOT honor an evil diety known as satan. we do NOT slaughter animals or babies! wiccans love nature and everything in it, we try our hardest to keep balance, we pick a flower, we plant another, just as the circle of life, i love the lion king :)
Dont be in a big hurry to convert to wicca, it may not be for you. i would say to read everything you can get your hands on so you can see everyones views. you might see some ritual you would like to use for your next sabbat, or you may want to write one. we dont go by a bible that tells us what way to do it, it would cheapen the fealling wouldnt it? if your under 18 and your parents dont want you reading books on wicca or paganism, pick up an herb book, or astrology, and i highly suggest a mythology book, your parents shouldnt be mad about that, but be sure to listen to your parents, our elders are to be respected!

"May our mothers light and love guide you through the stary sky to show you her secrets kept for the ones who seek her knowledge"
*~By Moondust~*